Tiles Hop Online game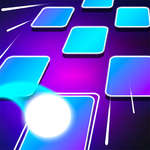 Play
Hop along the tiles as you jam out to the different beats. Collect stars to unlock and complete all of the songs.
Tiles Hop Online, play free music games, related games and updates online. Added on 2020/07/16, played 531 times. Author gd 7436. Game rating 3 out of maximum 5, based on 6 user opinion. Rate this game
Find more games in related categories
This game can be played on mobile phone or tablet. Scan QR code to play on mobile.
How to play? Use mouse or finger to move
Do you like this game?
Suggested games
Related games