Crazy Road Runner game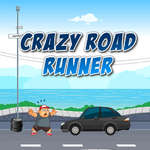 Play
Crazy Road Runner is running game where you have to run on the road and jumping over different cars, bombs, tires and try to collect coins and different type food on the road. You need to be careful not to get under the car and do not jump on the bomb. Go as far as possible at the same time gaining the biggest number of points. Heave fun.
Crazy Road Runner, play free car games, related games and updates online. Added on 2020/07/16, played 162 times. Author gd 13126. Game rating 1 out of maximum 5, based on 1 user opinion. Rate this game
Advertisment
How to play Crazy Road Runner?
Use your mouse to play the game or tap on the screen!
Find more games in related categories
This game can be played on mobile phone or tablet. Scan QR code to play on mobile.
Do you like this game?
Related games