Cannon Man game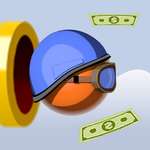 Play
Release the cannon bomb at a right time to reach the opposite cannon that moves randomly. Collect money by shooting them!
Cannon Man, play free cannon games, related games and updates online. Added on 2020/07/20, played 6 times. Author gd 9557. Rate this game
Find more games in related categories
This game can be played on mobile phone or tablet. Scan QR code to play on mobile.
How to play? Tap the screen or left mouse to release the cannon man
Do you like this game?
Related games