Gate Rusher Online game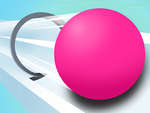 Play
Gate Rusher Online is a brand-new arcade game. Players need to control the ball to slide left and right to avoid the roadblocks in front of them and keep moving towards the target. Although the playing method seems simple, it can test the players' reaction ability. Remember not to miss any gate, enjoy the Gate Rusher Online!
Gate Rusher Online, play free 3d games, related games and updates online. Added on 2020/07/25, played 239 times. Author gd 11649. Game rating 5 out of maximum 5, based on 1 user opinion. Rate this game
Find more games in related categories
This game can be played on mobile phone or tablet. Scan QR code to play on mobile.
How to play? Slide on the screen to play
Do you like this game?
Related games