Join and Clash 3D game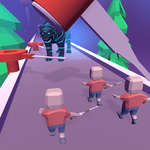 Play
Are you ready for a fun adventure? You will go on an endless journey with Join and Clash 3D legend. You have to save your friends who are trapped by the cursed and killer leopard and defeat the leopard. To reach the wild leopard, you have to go through some disabled roads. You must be careful. It should never hurt your friends. Play now to have fun with 50+ different levels.
Join and Clash 3D, play free animal games, related games and updates online. Added on 2020/07/25, played 27 times. Author gd 13126. Rate this game
Advertisment
How to play Join and Clash 3D?
Mouse or W, A, S, D or Arrow Key
Find more games in related categories
Do you like this game?
Related games