Animal Shapes game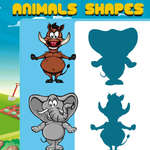 Play
In this game, you are given four animals and four shadow shapes of these animals and have to match each animal with its correct shape and fill all these shadow figures. Whenever you match all animals correctly, you will win the level. This game's gameplay, graphic and theme makes it a very interesting and suitable choice for kids and can teach them about different animals.
Animal Shapes, play free animal games, related games and updates online. Added on 2020/08/01, played 2 times. Author gd 7607. Rate this game
Find more games in related categories
This game can be played on mobile phone or tablet. Scan QR code to play on mobile.
How to play? Use your mouse to play the game or tap on the screen!
Do you like this game?
Related games