MONSTER Truck Racing Offroad Driving Simulator game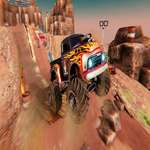 Play
Get behind the steer wheel of your 4x4 RC Big Monster Truck and get ready to do literally what you want on the road and the asphalt. Skids, jumps, smash cars, rocks, stunts and even a miniature cannon with an underground circuit. Use pipes work to jump as high as possible in this radio control simulator racing games and the make the coolest stunts and drifting.
MONSTER Truck Racing Offroad Driving Simulator, play free 3d games, related games and updates online. Added on 2020/08/07, played 20 times. Author gd 12500. Game rating 1 out of maximum 5, based on 1 user opinion. Rate this game
Find more games in related categories
How to play? - Real RC Monster Truck physics simulator. Make stunts and drift with your toy car. Big offroad with rocks, asphalt and sand scenario with many jumps and extreme situations where drive your RC Monster Truck big. Choose the control mode of your Big Monster Truck: steering wheel, tilt or keys. Real driving car features like ABS, ESP, TC and extreme nitro turbo boost. Burn the asphalt! Realistic car damages. Protect your monster truck of crash.
Do you like this game?
Related games