Funny Cars Memory game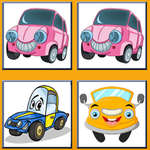 Play
Funny Cars Memory is puzzle memory game with funny cars. The images will be displayed and you will have few seconds to memorize the you need to find them before time is finish. Pass all levels and enjoy the game.
Funny Cars Memory, play free memory games, related games and updates online. Added on 2020/08/19, played 0 times. Author gd 2688. Rate this game
Find more games in related categories
This game can be played on mobile phone or tablet. Scan QR code to play on mobile.
How to play? Tap on images to play this game.
Do you like this game?
Related games