Snake game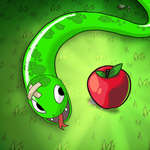 Play
Play you loved Snake Nokia 3310 remasterized. Eat fruits. Buy avatars and special skills for your snake. Turn your snake unique and make it as longest as possible. The game contains a a Nokia 3310 retro snake game mode.
Snake, play free bubble shooter games, related games and updates online. Added on 2020/08/29, played 0 times. Author gd 4311. Rate this game
Find more games in related categories
This game can be played on mobile phone or tablet. Scan QR code to play on mobile.
How to play? Move your snake with keyboard or touch on mobile. On mobile in the menu select the snake controller which fits to you.
Do you like this game?
Related games