Poultry Farm Easter Escape game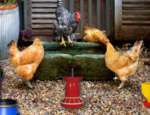 Play
Gelbold- Gelbold Poultry Farm Easter Escape is another point and click room escape game developed by this game, you came to celebrate the Easter holidays in a forest which is located outer of the city. But unfortunately, you trapped in that forest. You have to find the way by finding useful objects, hints and solving puzzles. Click on the objects to interact with them and solve puzzles. Good luck and have fun!
Poultry Farm Easter Escape, play free farm games, related games and updates online. Added on 2020/09/23, played 371 times. Author gd 10335. Game rating 5 out of maximum 5, based on 1 user opinion. Rate this game
Find more games in related categories
This game can be played on mobile phone or tablet. Scan QR code to play on mobile.
How to play? Use mouse or tab
Do you like this game?
Suggested games
Related games