Missing Num Bubbles game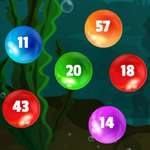 Play
It is interesting number game for kids. In this game there are 3 modes; what number comes before asked number, what number comes after asked number, and what number comes between 2 given numbers. See the left panel to see given number and select right number bubble from the right box.
Missing Num Bubbles, play free math games, related games and updates online. Added on 2020/10/07, played 0 times. Author gd 2740. Rate this game
Find more games in related categories
This game can be played on mobile phone or tablet. Scan QR code to play on mobile.
How to play? Use touchscreen or mouse to play this game.
Do you like this game?
Related games