Lolirockstars Maker game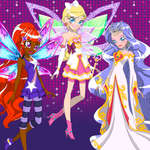 Play
Girls - let's create a cool rock band! It's time for creativity. Rather, gather around herself BBF. Think up for each member of the group your unique image - hairstyle, dress or suit, accessories and of course - favorite song. Our maker will help you with this! You can not only choose different items for your heroine, but also change the color of many items! What rock star do you want to be? Let's find out with the game «Lolirockstars maker»!
Lolirockstars Maker, play free decoration games, related games and updates online. Added on 2020/10/20, played 8 times. Author gd 7438. Rate this game
Find more games in related categories
This game can be played on mobile phone or tablet. Scan QR code to play on mobile.
How to play? Mouse or touchpad.
Do you like this game?
Suggested games
Related games