Helicopter Strike game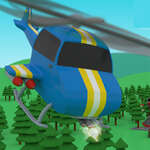 Play
Fly your helicopter around the map as you attempt to complete all 4 missions before you lose all of your lives. Avoid enemy fire as you bring down factories, anti aircraft and airplanes in this action packed online game.
Helicopter Strike, play free flight games, related games and updates online. Added on 2021/02/20, played 4 times. Author gd 7433. Rate this game
Find more games in related categories
This game can be played on mobile phone or tablet. Scan QR code to play on mobile.
How to play? Follow in game directions or use tap controls on mobile
Do you like this game?
Related games