Mahjong Battles Egypt game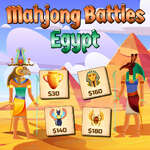 Play
This is a classic mahjong with turn based, 2 player mode and Egyptian theme. When your turn comes, You can draw a pair of similar tiles. You can draw any tile which is open to any direction. Each pair gives you the money equal to written on it. Try to earn more money then your opponent to win the battle. In single duel you play with a virtual player. In hot seat you can play with your friend on same device. In campaign you will play with many virtual players one by one.
Mahjong Battles Egypt, play free 2players games, related games and updates online. Added on 2021/03/28, played 52 times. Author gd 11200. Rate this game
Find more games in related categories
This game can be played on mobile phone or tablet. Scan QR code to play on mobile.
How to play? When turn indicator come to your side, use mouse or touch-input to collect the pair of cards.
Do you like this game?
Suggested games
Related games