Marvelous Hot Wheels Stunt Car Racing Game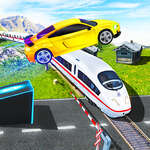 Play
Time to show your car racing skills with adventurous stunts performing activities. Marvelous Hot Wheels should drive his car As fast as possible so that he can beat all the cars which are in the car racing game. Forget everything and start a new journey of extreme car racing stunts. Gear up your engine, give full throttle to your race and start the city racing journey.
Marvelous Hot Wheels Stunt Car Racing Game, play free 3d games, related games and updates online. Added on 2021/05/05, played 78 times. Author gd 12506. Game rating 3.7 out of maximum 5, based on 3 user opinion. Rate this game
Find more games in related categories
How to play? Hd stunning graphics with realistic car racing physics. Realistic and high physics car racing controls. Best sound effects. Rich road environment. Complete upgrades are available for cars. Multiple levels to satisfy your racing needs.
Do you like this game?
Related games