Killer City game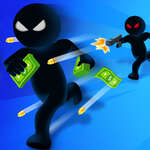 Play
Avoid the killers as you try to grab as much cash as possible. The sequel to Stick City, this time you need to avoid the killers and the vehicles for as long as possible. Pick up the baseball bat to help defend yourself.
Killer City, play free stickman games, related games and updates online. Added on 2021/08/01, played 82 times. Author gd 14677. Game rating 5 out of maximum 5, based on 1 user opinion. Rate this game
How to play Killer City?
Use mouse or finger to move
This game can be played on mobile phone or tablet. Scan QR code to play on mobile.
Do you like this game?
Related games
Stickman Games