Trials Ice Ride game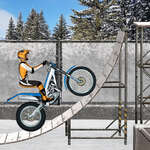 Play
Ride a motorbike on icy outdoor trials track and pass many complex obstacles. Keep the trials bike balanced and avoid falling off the motorcycle. Complete the track in the shortest time to get higher score points and unlock various achievements.
Trials Ice Ride, play free car games, related games and updates online. Added on 2021/10/12, played 20 times. Author gd 10703. Rate this game
Find more games in related categories
This game can be played on mobile phone or tablet. Scan QR code to play on mobile.
How to play? Desktop: Arrow keys or W,A,S,D to control the motorbike. Mobile: Use on-screen buttons to ride and balance the motorcycle.
Do you like this game?
Suggested games
Related games