Number Jump Kids Educational Game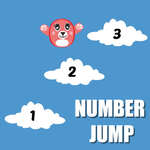 Play
In this game we have used a genre similar to "Doodle Jump" for teaching numbers. We have used a method in which children will become familiar with numbers' shapes, names and order by seeing and listening to them in their proper order. This game can be very useful in teaching numbers to children from 3 to 6 years old.
Number Jump Kids Educational Game, play free girl games, related games and updates online. Added on 2021/12/18, played 5 times. Author gd 12506. Rate this game
Find more games in related categories
This game can be played on mobile phone or tablet. Scan QR code to play on mobile.
How to play? Touch on mobile device or mouse on PC.
Do you like this game?
Related games