Nastya Cute Blogger game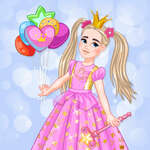 Play
Cute Nastya is a very popular blogger. Her mom and dad help her make cool videos. In this episode, Nastya's family will decorate the house for the holiday, and Nastya herself will choose stylish outfits and help her dad turn into a glamorous fairy. Let's join her and master her makeup skills. Have fun with cute blogger Nastya!
Nastya Cute Blogger, play free girl games, related games and updates online. Added on 2022/03/11, played 9 times. Author gd 12506. Rate this game
Find more games in related categories
This game can be played on mobile phone or tablet. Scan QR code to play on mobile.
How to play? Left mouse button or touch.
Do you like this game?
Related games