Color Balls Game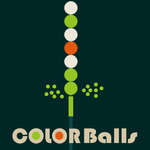 Play
Color Balls is a shooter puzzle game. You need to shoot on colored balls that coming from the top of the game screen. There will be different balls in the vertical rolls with different colors. Each ball need to be shoot by bullets with same color as the ball. On the bottom on the screen there is lines with colors as balls. You need to click on the bottom colored lines to shot bullet with color as line. So you can destroy white ball only with white bullet etc. If you shoot with wrong color bullets you will lose lives. You have five lives to play at this game. As you progress in the game the game will be faster and you need to shoot faster. Try this game is it interesting and fun.
Color Balls Game, play free mobile games, related games and updates online. Added on 2022/06/23, played 0 times. Author gd 13102. Rate this game
Advertisment
How to play Color Balls Game?
Tap on screen to play this game.
Find more games in related categories
This game can be played on mobile phone or tablet. Scan QR code to play on mobile.
Do you like this game?
Related games