Gold Coin Machine Master game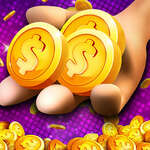 Play
Enjoy gold coin claw machine master and Go back to your childhood days and enter an arcade wonderland filled with coin claw machines, and giant spinning wheels. Enjoy a wide variety of gold coin collecting machine games, use your skills to get the best high score possible, and enjoy the prizes at this virtual fair
Gold Coin Machine Master, play free 1player games, related games and updates online. Added on 2022/07/01, played 3 times. Author gd 13093. Rate this game
Advertisment
How to play Gold Coin Machine Master?
Play with a claw machine and get an authentic experience like you've seen in your childhood. Use the controls to bring the claw machine over the most attractive prize in the toys pile.
Find more games in related categories
Do you like this game?
Related games