Four Colors Multiplayer Monument Edition game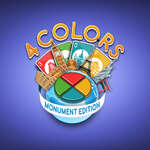 Play
Are you ready to travel around the world? Have fun and discover the most beautiful monuments with this new version of Four Colors! Face up to 3 real opponents or 3 computer-controlled players. Match cards by color or number. Use play action cards to mix the game up and be the first to get rid of all cards. Last but not least: Do not forget to press the 1 button when you have only one card left!
Four Colors Multiplayer Monument Edition, play free card games, related games and updates online. Added on 2022/07/08, played 2 times. Author gd 13093. Rate this game
Advertisment
How to play Four Colors Multiplayer Monument Edition?
Tap the card to select it
Find more games in related categories
This game can be played on mobile phone or tablet. Scan QR code to play on mobile.
Do you like this game?
Related games