Hamster Maze Online game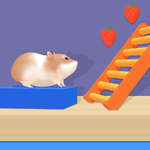 Play
Guide the cute little hamster out of the maze to find food! Hamster Maze Online is a fun maze game with exquisite 3D style and simple operation. You need to lead the hamster through the barrier door to find food. You can also collect hamsters's food on the platform. And don't forget to collect more food to unlock cute costumes for this hamster.
Hamster Maze Online, play free platform games, related games and updates online. Added on 2022/07/13, played 9 times. Author gd 13093. Rate this game
Advertisment
How to play Hamster Maze Online?
Drag to move
Find more games in related categories
This game can be played on mobile phone or tablet. Scan QR code to play on mobile.
Do you like this game?
Related games