BubbleQuod game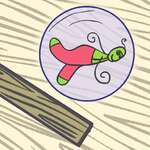 Play
Addict yourself to this 50-level physics puzzle! You won't regret! Every tenth level is the bonus (special) one. Game task is to free yourself from the bubble in which you are imprisoned. The bubble can be pierced by a nail which is situated in the window. Logical thinking, skills and clearness of purpose will help you.
BubbleQuod, play free platform games, related games and updates online. Added on 2022/09/07, played 0 times. Author gd 13555. Rate this game
Advertisment
How to play BubbleQuod?
Use arrows on the keyboard ← ↑ → to move the hero.
Find more games in related categories
This game can be played on mobile phone or tablet. Scan QR code to play on mobile.
Do you like this game?
Related games