Arrow Count Master game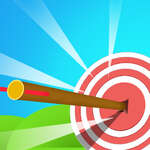 Play
Welcome to Arrow Count Master! Arrow Count Master is a fun casual arcade game. Choose glass doors with large numbers, this will increase the number of your arrows, try to avoid the red doors, they will decrease the number of your arrows. When your number reaches zero, your pace stops back at the same place. Don't forget to collect coins, they can be used to buy new skins! Come join and have a great time playing!
Arrow Count Master, play free 3d games, related games and updates online. Added on 2022/09/12, played 7 times. Author gd 13555. Rate this game
Advertisment
How to play Arrow Count Master?
Slide to play
Find more games in related categories
This game can be played on mobile phone or tablet. Scan QR code to play on mobile.
Do you like this game?
Related games