Match Colors Colors Game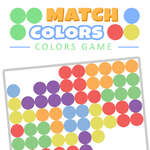 Play
• Complete the levels ! • Remove as many dots color as you can in a limited time! • Achieve 3 stars to get more coins! This is a super cool game with great gameplay.
Match Colors Colors Game, play free mobile games, related games and updates online. Added on 2022/09/12, played 2 times. Author gd 13555. Rate this game
Advertisment
How to play Match Colors Colors Game?
Tap on 3 dots (or more) of the same color! Clear the dots, that's your goal !
Find more games in related categories
This game can be played on mobile phone or tablet. Scan QR code to play on mobile.
Do you like this game?
Related games