Which Insect Looks Different game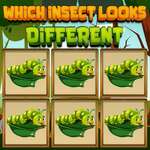 Play
This is a difference puzzle game. In this game four images of insects are given. Three of them look exactly same but one is different. Using your sharp skills find which insect looks different. Try to win all 40 challenges.
Which Insect Looks Different, play free mobile games, related games and updates online. Added on 2022/09/29, played 0 times. Author gd 13555. Rate this game
Advertisment
How to play Which Insect Looks Different?
Use mouse or touch pad to play this game.
Find more games in related categories
This game can be played on mobile phone or tablet. Scan QR code to play on mobile.
Do you like this game?
Related games