Mr Noob Pro Archer game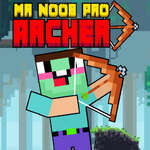 Play
One day like another, a little noob will meet multiple enemies who want to eliminate you, they will not hesitate to hurt you with their arrows or swords, can you stop them? This is a new game where the little noob archer must eliminate the enemies with his bow and arrow!
Mr Noob Pro Archer, play free archery games, related games and updates online. Added on 2023/01/23, played 0 times. Author gd 14319. Rate this game
How to play Mr Noob Pro Archer?
Objectives Eliminate all the enemies that will be located in different positions of the levels, improve your score with each elimination, collect all the gold you can, try as many times as you want and enjoy a casual action game.
This game can be played on mobile phone or tablet. Scan QR code to play on mobile.
Do you like this game?
Related games
Archery Games