Among Float Connect game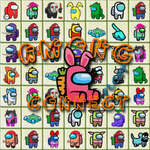 Play
Connect 2 same among items with a path that no more than two 90 degree angles. Clear the board by removing all pairs of identical among items. Becareful, in some levels the item tiles can float ( to bottom, to uper, to left, to right, to center or split). There are 27 challenging levels in this game. Complete a level before time bounds to get extra bonus.
Among Float Connect, play free connect games, related games and updates online. Added on 2023/01/28, played 37 times. Author gd 15083. Rate this game
How to play Among Float Connect?
Use mouse to click the same tiles to clear them.
This game can be played on mobile phone or tablet. Scan QR code to play on mobile.
Do you like this game?
Related games
Connect Games