Tanks 2D Tank Wars game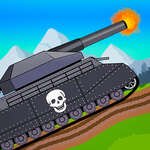 Play
Destroy enemy tanks and equipment! Upgrade weapons, buy and upgrade new tanks! Fight with boss tanks! There are many tanks in the game: MS-1, BT-2, T-60, T-127, T-34, KV-2, KV-3, IS-2. Use airstrikes and air support! Win the tank war!
Tanks 2D Tank Wars, play free tank games, related games and updates online. Added on 2023/02/23, played 9 times. Author gd 15149. Rate this game
How to play Tanks 2D Tank Wars?
To play with a PC, use the mouse and keyboard (w,a,s,d) To play from mobile devices, use touch input
This game can be played on mobile phone or tablet. Scan QR code to play on mobile.
Do you like this game?
Related games
Tank Games