Noob Vs pro 1 game
Play
Noob and Pro went a long way to find mysterious diamond apples, but Hacker steals them! ▼▼▼ You have to get them back! But how? Ask God about it! Help him and he will help you! ▼ Story mode - single player ▼ PvP mode for 2 players on one device - play with friends ▼ A lot of genres in one game ▼ Interesting story with Noob in the lead role ▼ Funny humour and jokes ▼ Fight zombies, drive car, kill boss and destroy Hacker! You will play as Pro and Noob. It's a great adventure - time to try it is now! )
Noob Vs pro 1, play free noob games, related games and updates online. Added on 2023/03/26, played 2 times. Author gd 15149. Rate this game
How to play Noob Vs pro 1?
Use the Arrow keys \ WASD to control the game. If you are playing from a phone, just tap the buttons on the screen
This game can be played on mobile phone or tablet. Scan QR code to play on mobile.
Do you like this game?
Related games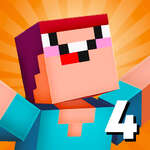 Noob Games