Bird Sort Puzzle game
Play
Bird Sort Puzzle - Latest free sorting puzzle game with a new art style and collection of colorful birds. Bird Sort will definitely make you enjoy it while training your brain. This sorting game stimulates your brain in a very fun and challenging way. It's easy to play with one finger control and suitable for all ages. Test your IQ by passing unique levels and unlocking new challenges. Play Bird Sort now for free and enjoy super fun challenges and awesome brain teasers!
Bird Sort Puzzle, play free sorting games, related games and updates online. Added on 2023/03/31, played 34 times. Author gd 15083. Rate this game
How to play Bird Sort Puzzle?
HOW TO PLAY: Move the bird by touching it and then touching the branch you want it to move to. The rule is that you can only move the birds if it has same color and there's enough space on the tree branch. Try not to get stuck. If you get stuck you can just go back step by step using the back button or restart the level at any time using the restart button.
This game can be played on mobile phone or tablet. Scan QR code to play on mobile.
Do you like this game?
Related games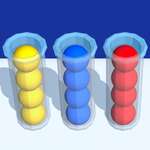 Sorting Games