Agent Fight 3D game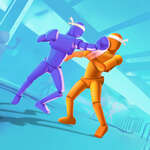 Play
Agent Fight 3D is an addictive fighting game. You can choose from a wide range of skills, hold the screen to attack, and when red text appears, release to defend and dodge the enemy's attacks. Ready to fight? Come join us and hone your fighting skills to become a superhero in the matchmaker fighting world!
Agent Fight 3D, play free agent games, related games and updates online. Added on 2023/04/13, played 5 times. Author gd 15083. Rate this game
How to play Agent Fight 3D?
Hold to attack, release to stop
This game can be played on mobile phone or tablet. Scan QR code to play on mobile.
Do you like this game?
Related games
Agent Games