Noob Stamp It game
Play
Noob Stamp It is an excellent puzzle game where you have to use your skills to complete all 50 levels. Move the cube to collect colors and stamp it right away! Help Noob complete this game.
Noob Stamp It, play free noob games, related games and updates online. Added on 2023/05/05, played 0 times. Author gd 15083. Rate this game
How to play Noob Stamp It?
Use your ARROWS or mouse to play.
This game can be played on mobile phone or tablet. Scan QR code to play on mobile.
Do you like this game?
Related games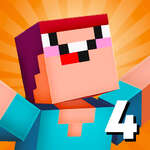 Noob Games