Super Ninja Plumber game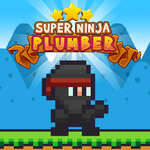 Play
"Ninja Plumber" is an action-adventure game with a super cute retro style! You play a plumber who transforms into a Ninja to save the mushroom world. Beat the levels and defeat the stone boss to complete your mission! A game with a retro soundtrack that goes very well with the pixel art graphics. Have a good fun!
Super Ninja Plumber, play free ninja games, related games and updates online. Added on 2023/05/12, played 1 times. Author gd 15083. Rate this game
How to play Super Ninja Plumber?
Desktop: A or D / Left or Right Arrow = Walk W or S / Up or Down Arrow = Ladders S / Down Arrow = Crouch Z / K = Jump X / L = Shuriken * Gamepad Compatible Mobile: Touch Buttons on Screen
This game can be played on mobile phone or tablet. Scan QR code to play on mobile.
Do you like this game?
Related games
Ninja Games