NOVA Covered Ops game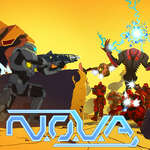 Play
Kal Wardin has received a desperate plea from Yelena to come to Earth. Once again, our hero must rise to save mankind! Explore 14 immersive levels set in 2 environments. Collect multiple power-ups and special weapons.
NOVA Covered Ops, play free ops games, related games and updates online. Added on 2023/05/26, played 0 times. Author gd 15083. Rate this game
How to play NOVA Covered Ops?
Controls: Aim with the V-pad.
This game can be played on mobile phone or tablet. Scan QR code to play on mobile.
Do you like this game?
Related games
Ops Games