Baby Beast Beauty game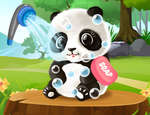 Play
The zoo has small animals, young tigers, young baby lions, young brown bears and young giant pandas. They are very active and lively, leading to dirt on their bodies. Come and help them clean and dress it, help them to take a shower and then clean them up, dress up headdresses, eyeglasses and necklaces for them, then feed them and finally save them for a photo. The saved photos can be viewed on the " Gallery "found.
Baby Beast Beauty, play free girl games, related games and updates online. Added on 2020/07/18, played 48 times. Author gd 13431. Rate this game
Advertisment
How to play Baby Beast Beauty?
Use mouse
Find more games in related categories
This game can be played on mobile phone or tablet. Scan QR code to play on mobile.
Do you like this game?
Related games