Head Football game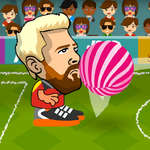 Play
Head Football is a fun head soccer game with great graphics and a good AI opponent. You can customize your football stadium and AI difficulty. Play Head Football now fun a great head soccer experience!
Head Football, play free football games, related games and updates online. Added on 2020/08/14, played 1 times. Author gd 2830. Rate this game
Find more games in related categories
How to play? AD or left/right arrows to move W or up arrow to jump Space to shoot
Do you like this game?
Related games