Wobble Fall 3D game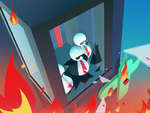 Play
The building is in danger, you must manually control the elevators to ensure that the Ws' in the elevators reach the ground successfully.
Wobble Fall 3D, play free 3d games, related games and updates online. Added on 2020/09/18, played 6 times. Author gd 11131. Rate this game
Find more games in related categories
This game can be played on mobile phone or tablet. Scan QR code to play on mobile.
How to play? Tap to play.
Do you like this game?
Suggested games
Related games