Elementary Arithmetic Math game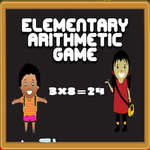 Play
Elementary Arithmetic Game is Mathematical game where you can test your elementary knowledge of Arithmetic Math. You can make only several mistakes before game over. Test your math skills and enjoy in this game.
Elementary Arithmetic Math, play free math games, related games and updates online. Added on 2020/09/19, played 0 times. Author gd 2773. Rate this game
Find more games in related categories
This game can be played on mobile phone or tablet. Scan QR code to play on mobile.
How to play? Use mouse to play this game.
Do you like this game?
Related games