Amazing Sticky Hex Hexa Block Puzzle Games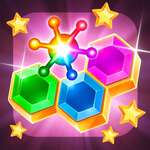 Play
Are you looking for a new and intriguing brain trainer game to challenge your mind and explore exciting levels? Do you love to play a relaxing hexagon puzzle from the comfort of your space? Time to sit back and unwind by playing one of the most difficult shape matching game. Tired of the existing match puzzle game? This shape matching game is unique and provides the novelty you were looking for. It will help you in polishing your tile matching skills and make the most fun out of your free time. All you need to do is understand the puzzle layout and drag and drop the hexa block in the right place within the board. Think of all the possible moves before dropping the block. Try Amazing Sticky Hex – Hexa Block Puzzle Games now!
Amazing Sticky Hex Hexa Block Puzzle Games, play free bejeweled games, related games and updates online. Added on 2021/10/12, played 2 times. Author gd 10699. Rate this game
Find more games in related categories
This game can be played on mobile phone or tablet. Scan QR code to play on mobile.
How to play? How to Amazing Sticky Hex – Hexa Block Puzzle Games • Install and launch the hexa puzzle game • Choose the level to begin jigsaw puzzle • Drag and drop the hexa blocks at the perfect spot to fill all blocks. • Solve the tile matching puzzle in fewer moves to pass the level. • Try this perfect brain teaser to sharp your mind.
Do you like this game?
Related games