Crayz Monster Taxi Halloween game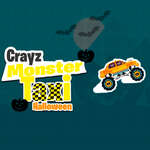 Play
How about driving a crazy monster truck taxi halloween? collect the coins on the road, reach the finish line and win the game. Let's see if you can reach the finish line safely. root the gas and reach the finish as fast as on the gas to adjust the balance of the car Keep the balance of the car by pressing the gas!
Crayz Monster Taxi Halloween, play free taxi games, related games and updates online. Added on 2022/10/20, played 2 times. Author gd 13555. Rate this game
Advertisment
How to play Crayz Monster Taxi Halloween?
*Arrow keys + WASD / Mobile Touch Control *Adjust the balance with the gas so that the car does not turn!
Find more games in related categories
This game can be played on mobile phone or tablet. Scan QR code to play on mobile.
Do you like this game?
Related games