Bubble Sort game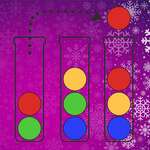 Play
Bubble Sort Puzzle, a color sorting game, is a fun and relaxing game that entertains and stimulates your brain! Quickly sort the colored balls in the tubes until all the same colors are together in the same tube. A challenging yet relaxing game to exercise your brain!
Bubble Sort, play free bubble games, related games and updates online. Added on 2023/03/08, played 10 times. Author gd 15083. Rate this game
How to play Bubble Sort?
HOW TO PLAY: • Tap any tube to move the ball lying on top of any tube into another tube • The rule is that you can only move a ball on top of another ball if both of them have the same color and the tube you want to move into has enough space. Otherwise the ball is rejected. • You can always restart the level at any time or retrace your steps one by one using the back button.
This game can be played on mobile phone or tablet. Scan QR code to play on mobile.
Do you like this game?
Related games

Bubble Games