Panda Legend game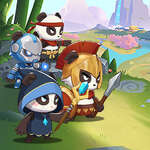 Play
Panda Legend is a casual puzzle game with simple and easy-to-follow rules, brand-new gameplay, use your brains; understand the elimination strategy, upgrade your characters, and let yourself take the lead in the battle. The new challenge mode, players can enjoy the fun of elimination, but you are immersed in it unconsciously.
Panda Legend, play free panda games, related games and updates online. Added on 2023/04/05, played 4 times. Author gd 15149. Rate this game
How to play Panda Legend?
1. Continue to upgrade characters and equipment, so that you can seize the opportunity in the battle; 2. Connect three identical elements into a straight line to eliminate,3 in a row; 3. Use props to help accomplish goals; 4. Preview the overall situation in detail and master the elimination strategy;
This game can be played on mobile phone or tablet. Scan QR code to play on mobile.
Do you like this game?
Related games
Panda Games