Balls Sorting Deluxe game
Play
Balls Sorting Deluxe is a puzzle game. You are needed to complete sorting all the same four of balls into the tanks at each level. Here are two difficulties mode for you to play Easy and Hard levels. In Easy mode, you will find some easy sorting puzzles with fewer balls and more tanks. While in Hard mode, you will have more balls and fewer tanks for sorting. You can use rewards like extra tank or +1000 score while playing this strategic sorting game.
Balls Sorting Deluxe, play free sorting games, related games and updates online. Added on 2023/04/08, played 2 times. Author gd 15083. Rate this game
How to play Balls Sorting Deluxe?
Use mouse or touch pad to play this game.
This game can be played on mobile phone or tablet. Scan QR code to play on mobile.
Do you like this game?
Related games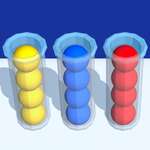 Sorting Games