Koala Coloring Pages game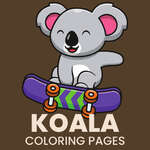 Play
The Koala Coloring Pages is a fun and easy way to explore the world of koalas! Choose from a variety of coloring pages featuring koalas sleeping, climbing trees, and eating eucalyptus leaves. Use virtual coloring tools to add your favorite colors, and save or share your creations when you're finished. It's a great way to relax and unleash your creativity!
Koala Coloring Pages, play free coloring games, related games and updates online. Added on 2023/05/10, played 1 times. Author gd 15149. Rate this game
How to play Koala Coloring Pages?
Choose an image to color. Pick a color from the swatch and color the image the way you want.
This game can be played on mobile phone or tablet. Scan QR code to play on mobile.
Do you like this game?
Related games

Coloring Games