Pixel Factory Battle 3D IO game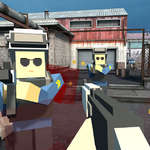 Play
Pixel Factory Battle 3D is a Battle game that is exciting and fun, trying to win more games for your team.
Pixel Factory Battle 3D IO, play free 3d games, related games and updates online. Added on 2020/07/25, played 14 times. Author gd 7681. Rate this game
Find more games in related categories
This game can be played on mobile phone or tablet. Scan QR code to play on mobile.
How to play? Move:WADS,Shoot:Mouse Left,Zoom:Mouse Right or Touch
Do you like this game?
Suggested games
Related games