FPS Shooting Strike Modern Combat War 2k20 game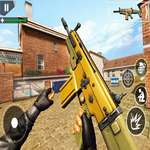 Play
Do you know the rules of how to survive in this critical strike and warfare of counter terrorist games? Special training is required to fight and survive against terrorist attack. High level of accuracy & precision is the key to ensure survival in fps games, sniper shooting games, gun shooting games or other fps shooting games.
FPS Shooting Strike Modern Combat War 2k20, play free gun games, related games and updates online. Added on 2020/08/05, played 4,850 times. Author gd 14677. Game rating 4.4 out of maximum 5, based on 28 user opinion. Rate this game
How to play FPS Shooting Strike Modern Combat War 2k20?
Shoot with mouse click Move player with WASD Press tap to Enable Cursor
This game can be played on mobile phone or tablet. Scan QR code to play on mobile.
Do you like this game?
Related games
Gun Games