Accordion Solitaire game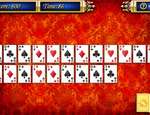 Play
Come and challenge the Accordion if you consider yourself to be a highly skilled and lucky solitaire player! This is a tough and unusual game which has a very low winning rate, and your goal is to compress 52 standard playing cards into one single pile. When the game starts, 2 face-up cards will be dealt to the middle of the screen. The remaining cards will be placed face-down to the stock pile at the bottom right corner. If you click the stock pile, a face-up card will be dealt to the immediate space on the right of the current face-up cards. When a row has run out of space, the next card will be dealt to the row below. If the top cards of two piles are of the same suit or rank, you can move a pile to another pile immediately to its left or separated to its left by two piles. For example, if the top cards on five piles are 8 of spades, 6 of spades, 10 of diamonds, 8 of hearts and Q of clubs, you can move the pile of 6 of spades, or the pile of 8 of hearts, to the top of the 8 of spades. When gaps appear after a move, cards will move automatically to the left to fill the space. Continue the process until the cards are all compressed into one pile. Can you win against the odds and achieve the goal successfully?
Accordion Solitaire, play free solitaire games, related games and updates online. Added on 2020/09/12, played 291 times. Author gd 12494. Game rating 5 out of maximum 5, based on 1 user opinion. Rate this game
Find more games in related categories
This game can be played on mobile phone or tablet. Scan QR code to play on mobile.
How to play? Play the accordion of cards to showcase your skills!
Do you like this game?
Related games