Solitaire 13in1 Collection game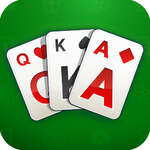 Play
Popular solitaire is simple and addictive game for one player, which goal is to get rid of all the cards on the table, with the help of certain rules. Every of the thirteen modes are following different rules. Among them we will find popular variants like Klondike or Freecell. Can you win all of them?
Solitaire 13in1 Collection, play free solitaire games, related games and updates online. Added on 2021/05/08, played 129 times. Author gd 10715. Rate this game
Find more games in related categories
This game can be played on mobile phone or tablet. Scan QR code to play on mobile.
How to play? The common goal of all the solitaire variants is to eliminate all the cards, which are on the table. Move them to the corresponding pile based on the rules of particular mode. The cards are sorted based on their suits or values. Every variant have different rules and allows different card movements.
Do you like this game?
Suggested games
Related games